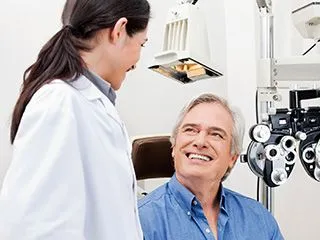 It is important that you understand the difference between the types of eye professionals available to assist you with your eye care needs. Visiting the right type of professional could make all the difference. At Eye Care Specialists of Florida, we provide ophthalmology services in Kissimmee, FL, and the surrounding areas. Keep reading to learn more about our ophthalmology services.
What Is an Ophthalmologist?
An ophthalmologist is a professional who studies the diseases of the eye. They specialize in treating a wide variety of eye conditions. Our ophthalmologist is also qualified to perform surgery and prescribe eyeglasses and contact lenses. Our eye doctor can provide you with the care you need for any eye problems you may have.
Training
An ophthalmologist must undergo extensive medical training. These professionals must earn a medical degree and complete a residency in the same way that a regular medical doctor would. They possess the skills and knowledge needed to perform eye surgery if needed. As an eye surgeon, you can rest assured that they can handle any type of eye issues you are having.
Services and Surgeries We Offer
Our ophthalmologist can provide many services and surgeries. Conditions that our ophthalmologist can treat may include:
Glaucoma- Glaucoma is a condition that damages the optic nerve. This occurs when liquid builds up in the eye. This build-up will cause increased pressure. The pressure will eventually damage the nerves and can have a negative effect on vision. If left untreated, this can result in blindness. This usually affects older people but can also affect younger people as well.
Vitreoretinal Diseases- This is a type of eye disorder that harms the retina and the vitreous. We can diagnose and treat this problem. Treatments may include laser therapy and surgery.
Ophthalmic Pathology- In some cases, tissue from the eye must be studied in order to fully understand what is causing your eye problems. Our eye doctor can conduct these procedures.
Other Services
In addition to these specialized types of services, we also offer annual eye exams and vision screenings in our office. If you need eyeglasses or contact lenses, we can help with this as well.
Contact Us for More Information from Our Eye Surgeon
If you would like to learn more about our ophthalmology services, or any of our other services, please contact us at Eye Care Specialists of Florida, serving Kissimmee, FL, and the surrounding areas. We will be happy to answer your questions and schedule an appointment for you. Call us at (407) 483-0328 today.